Our Story
What is Souvla?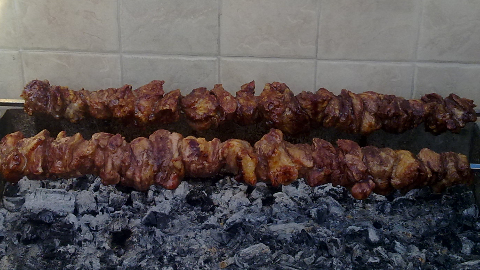 Before we tell you our story, you may want to know what Souvla is and its history.
Souvla (Greek: σούβλα) is a popular dish from Cyprus. It consists of large pieces of meat cooked on a long skewer over a charcoal rotisserie grill.
It differs from the popular Greek dish souvlaki, in that meat cuts are much larger and cooked for a longer period on the hot charcoal. Traditional souvla is made from lamb, pork and chicken.
In Cyprus, souvla dates back thousands of years, in fact archaeologists discovered bronze and iron skewers dating back to the Iron Age.  Many methods and techniques have been used to cook souvla, from wooden skewers over the charcoal pit being hand turned, to the more modern stainless steel skewers powered on a rotisserie grill called a Foukou.
Our Story
Our Souvla Boy Zak, is passionate about his souvla. His devotion and cooking skills for souvla has been passed down from generation to generation over thousands of years.
After many years of cooking souvla for his family and friends as well as at community functions, Zak decided to share his passion with this great multicultural foodie city of Perth.
Zak and his wife Tina, along with their close friends Kay and Frank, have teamed up to create a pop up food stall to attend various events in Perth and serve up our delicious souvla for all to enjoy.
Come and find us at our next event and we will have some freshly cooked hot tasty charcoal lamb or chicken waiting for you!